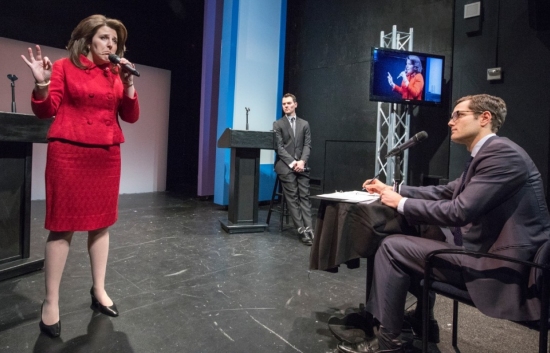 I don't write about politics, because I find that most political discussions produce lots of heat but very little light. However, I have decided to discuss a political "experiment" that I recently learned about because I think it relates to science. In addition, it is about a play, and since I am an amateur actor and playwright, I couldn't resist. However, I have to warn you up front that I will mercilessly delete any comments that try to turn this into a political discussion. It is not. It is a discussion about how people react to the information they are given.
The intriguing political experiment was conceived by Dr. Maria Guadalupe, Associate Professor of Economics and Political Science at INSEAD an international business school. She wanted to know how people would react to the 2016 presidential debates if the genders of the two candidates were reversed. As a result, she decided to produce Her Opponent, a play that featured excerpts from the three presidential debates with the genders of the two candidates reversed. A male actor portrayed former Secretary of State and Senator Jonathan Gordon, while a female actress played business tycoon Brenda King.
Jonathan Gordon, of course, was the "male version" of Hillary Clinton, while Brenda King was the "female version" of Donald Trump. The actors delivered their lines verbatim from the debates, and they worked hard to use the same mannerisms, emotions, and vocal inflections as the candidates they were trying to represent. You can see a short excerpt from a rehearsal here. The audience members were given two surveys to fill out – one before seeing the play and one after seeing the play.
As New York University reports, Dr. Guadalupe and her co-producer thought they knew what the results of the surveys would be. They thought that the audience would react very negatively to Brenda King, because they thought that the kinds of things Mr. Trump said in the debates would never be tolerated coming from a woman. In the same way, they thought the audience would react positively to Jonathan Gordon, because they thought that Hillary's tone and statements would be given more weight if they came from a man. It turns out that their expectations were wrong.
Continue reading "One Reason It Is Hard to Change a Person's Mind About Politics (and Science)"