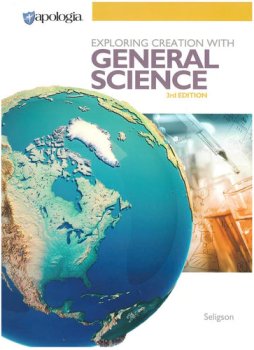 I wrote the second edition of Exploring Creation with General Science more than 12 years ago, so the course was due for an update. Marine biologist Sherri Seligson has written a new edition of the course, which was just recently published. Previously, I reviewed the second edition of her Exploring Creation with Marine Biology and enthusiastically recommended it to homeschoolers. Unfortunately, I cannot enthusiastically recommend the third edition of Exploring Creation with General Science. At the same time, I also can't say that homeschoolers shouldn't use the course. In the end, there are things I loved about the course, things I didn't like about the course, and things I didn't understand about the course.
Let's start with the things I loved. From the standpoint of what is covered, this course is a better fit for students who took Jeannie Fulbright and Dr. Brooke Ryan's elementary course, Exploring Creation with Human Anatomy and Physiology. That's because in the second edition of Exploring Creation with General Science, I spent an enormous amount of time covering the human body. Fulbright and Ryan's course does that as well, so there is a lot of overlap for students who have taken their course. This problem is compounded by the fact that Fulbright and Ryan's course is the most difficult of all the elementary courses in that series, so it is usually taken in fifth or sixth grade, just one or two years before the general science course is usually taken. This new edition of general science does not dwell on the human body, so students will not have to sift through all that repetitive material. However, as I will mention later on, students will have to sift through repetitive material if they end up taking the next book in the publisher's series.
I also loved the discussion of graphs and tables that takes place in Module 3. It is very well done, and it is something that will be extremely useful for students who are getting ready for high school science.
Another great thing about the course is that many of the experiments are novel and interesting. For example, there are several "standard" household experiments on the subject of density, but this course's experiment on density (Experiment 1.1) is one that I had never seen and is very effective. Another great experiment is the Rube Goldberg experiment that ends the course.
In addition, I loved the way that Seligson makes science personal. She starts the course with a letter to the student and ends the course with another one. That's a nice touch. Similarly, I loved the fact that the last module is made up of personal testimonies from several different scientists. They discuss how the scientists came to enjoy science, what they have done and are doing in their scientific field, and how they relate science to their Christian faith. That is an excellent way to end the course.
Continue reading "My Review of Exploring Creation with General Science, 3rd Edition"