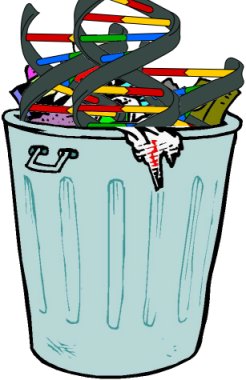 The concept of "junk DNA" is crucial to evolutionary theory. For example, the "gold standard" of evolutionary simulations doesn't produce any evolution unless at least 85% of the simulated DNA is junk. This is why so many evolutionists are fighting against the straightforward conclusions of the ENCODE series of studies, which indicate that at least 80% of the human genome is functional. Dr. Dan Graur, for example, has famously said that if ENCODE is right, then evolution is wrong.
As is the case with most evolution-inspired ideas, the more we learn about the natural world, the more it becomes obvious that there is very little "junk DNA" in nature. A recently-published study of gender in mice highlights this fact. In the study, an international collaboration of scientists examined the development of sexual characteristics in mice. As you probably already know, in mammals there is a pair of chromosomes referred to as sex chromosomes. If an individual has an X chromosome and a Y chromosome in that pair, he is a male. If the individual has two X chromosomes, she is a female.
But the development of the proper characteristics associated with each sex depends on what happens during embryonic development. For example, as a mammal embryo develops, it starts out producing ovaries. However, there is a gene on the Y chromosome called Sry. It produces a protein that controls the production of another protein, called SOX9. The SOX9 protein turns developing ovaries into testes. A male develops testes, then, because of the action of a gene on the Y chromosome. But as this latest study shows, there is more to it than that.
The scientists removed a small section of DNA from genetically-male mice. This section is found in what the authors refer to as a "gene desert," a section of DNA that is devoid of genes. Nevertheless, when that small section of DNA was deleted, the genetically-male mice developed ovaries and female genitalia. Now please understand that the genes involved in the production and regulation of the SOX9 protein were not removed; only a small portion of what many would call "junk DNA" was removed. Nevertheless, without that section of DNA, the genetically-male mice did not produce enough SOX9 protein, so the ovaries continued to develop into ovaries, which then caused the production of female genitalia. As a result, the authors refer to this small section of DNA as a SOX9 "enhancer." It enhances the production of SOX9 at just the right time, so the males develop the correct gender characteristics.
While the results of this study are fascinating, they are not surprising. After all, it has become more and more clear that the concept of "junk DNA" is a myth. As a result, it makes sense that even small sections of DNA have important functions, at least in certain stages of development or under certain conditions. The reason I am blogging about the study is because of something the lead author said in an article that was published on his institution's website:
Our study also highlights the important role of what some still refer to as 'junk' DNA, which makes up 98% of our genome. If a single enhancer can have this impact on sex determination, other non-coding regions might have similarly drastic effects. For decades, researchers have looked for genes that cause disorders of sex development but we haven't been able to find the genetic cause for over half of them. Our latest study suggests that many answers could lie in the non-coding regions, which we will now investigate further.
Indeed. As Dr. John Mattick so aptly put it more than a decade ago:
…the failure to recognise the implications of the non-coding DNA will go down as the biggest mistake in the history of molecular biology.