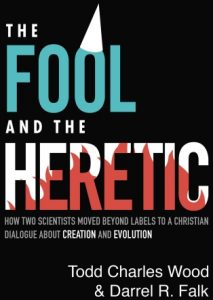 When the creation/evolution controversy comes up in Christian circles, it is often accompanied by a lot of strife. Some Christians think that evolution comes straight from the Devil, while others think that when Christians refuse to accept the fact of evolution, they are harming the cause of Christ. Unfortunately, most of the major Christian organizations that focus on the subject fuel this acrimony. As a result, when I heard that the Colossian Forum had convinced Dr. Todd Wood (a young-earth creationist) and Dr. Darrel R. Falk (a theistic evolutionist) to write a book about the subject, I was intrigued. I actually pre-ordered a copy of the Kindle version, but later was happy to find that the publisher had sent me a free paperback copy to review.
The book, entitled The Fool and the Heretic, is made up of chapters written by Dr. Wood (the "fool"), chapters written by Dr. Falk (the "heretic"), and short interludes written by Rob Barrett of the Colossian Forum. There are also discussion questions at the end of each chapter. Drs. Wood and Falk are diametrically opposed when it comes to the question of origins, and that becomes clear right up front. Indeed, the first chapter (written by Wood) is entitled "Why Darrel is Wrong and Why It Matters," and the next chapter (written by Falk) is "Why Todd is Wrong and Why It Matters." Because of those titles, I almost named this review, "Why Todd, Darrel, and Rob are all wrong and why it matters," because that's the main conclusion I was left with when I finished the book.
Both initial chapters present the standard view from each camp. Dr. Wood says that Dr. Falk is wrong because when you try to interpret the first eleven chapters of Genesis to be anything other than historical narrative, you end up doing great theological damage to the rest of the Bible. Dr. Falk says that Dr. Wood is wrong because the evidence for evolution is overwhelming, and when Christians reject that evidence in order to hang on to an outdated view of Scripture, it ends up causing great damage, especially to those who are interested in pursuing the truth. They will eventually encounter this overwhelming evidence, and it will produce a crisis of faith, which sometimes results in leaving the faith. Of course, neither of those assertions is new, and in my view, neither of them is correct.
Continue reading "A Frustrating Book, But A Good First Step"