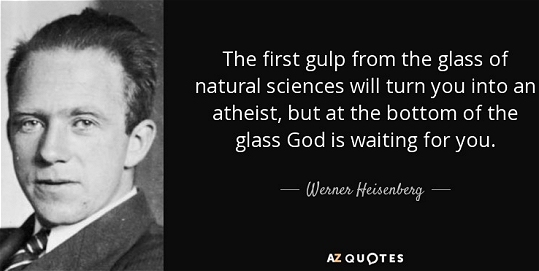 If you have spent much time on the internet, I am sure you have seen memes like the one shown above. They usually contain a picture and some sort of message. I really enjoy the funny ones, but I typically don't like the serious ones. It's not because I don't enjoy being serious. It's because you rarely know whether or not the information in the meme is trustworthy. Consider, for example, the meme shown above. It attributes a quote to Dr. Werner Heisenberg, a giant in the field of quantum mechanics. Indeed, his work continues to guide our understanding of the atomic world. I fully agree with the quote, and I deeply respect Dr. Heisenberg. There is only one problem: the meme is almost certainly false.
A Facebook friend posted it on my wall because she knew that I would agree with it. However, I had read a lot of Heisenberg's work, and the quote didn't seem to fit the person who I had come to know through my reading. Consider, for example, his main work on the relationship between science and religion. It is called "Scientific Truth and Religious Truth," and it was published in 1974 (two years before his death) in Universitas, a German review of the arts and sciences. In that work, he seems to argue that science and religion each arrive at truths, but the truths are unrelated to one another. Consider, for example, his own words:
The care to be taken in keeping the two languages, religious and scientific, apart from one another, should also include an avoidance of any weakening of their content by blending them. The correctness of tested scientific results cannot rationally be cast in doubt of religious thinking, and conversely, the ethical demands stemming from the heart of religious thinking ought not to be weakened by all too rational arguments from the field of science.
This is a common view among religious scientists. It often called the "Nonoverlapping Magisteria" (NOMA) view, and it was championed by Dr. Stephen Jay Gould, an ardent evolutionary evangelist who died in 2002. I strongly disagree with the NOMA view, so when I read Dr. Heisenberg's work, I was disappointed that he seemed to hold to it.