Posted by jlwile on November 4, 2014
I have been intrigued by archerfish (genus Toxotes) ever since I saw them at an aquarium. They like to feed on insects that crawl around on the plants near the water's edge. When an archerfish spies an appetizing insect, the fish shoots a stream of water out of its mouth, hitting the insect and knocking it into the water. The fish then goes to the surface and swallows the insect. You can watch a video of this happening by clicking on the picture. Youtube has several other videos of these incredible fish.

Obviously, the archerfish has to "know" a lot of physics to be able to hunt the way it does. After all, as soon as the water leaves its mouth, it is affected by gravity. As a result, the stream of water doesn't travel straight to its target. Its path bends downward, forming a shape called a parabola. Because of this, the archerfish can't aim directly at its prey. Instead, it has to aim above its prey, taking the curved shape of the water's path into account.

But that's not the end of the story. When light passes from one medium to another, it bends in a process called refraction. This causes a problem for what we see when we look at things that are in the water. Consider, for example, looking at a fish that is swimming in a pond. You see the fish because light hits the fish, reflects off the fish, and travels to your eyes. However, when the light passes from water into air, it bends, and that causes a problem for you. Look at the drawing below: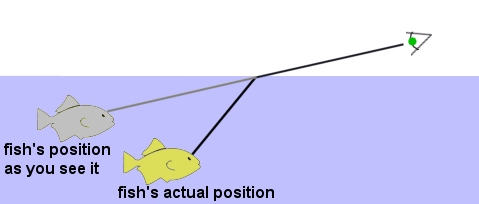 The light coming from the fish bends when it enters the air, but your brain interprets light as traveling in a straight line. So when your brain constructs the image of the fish, it doesn't take refraction into account, and therefore it forms the image of the fish at a shallower depth and behind where the fish actually is. Those who try to spear fish while standing in shallow water have to account for this. If they don't aim their spear in front of the place where they see the fish, they will never hit it.
The archerfish, of course, has a similar problem. The light that its eyes receive bends when it hits the water. Because of the way it bends, the fish sees the insect closer and lower than it really is. So not only does the archerfish have to account for the effects of gravity when it aims its water stream, it also has to realize that it shouldn't aim for the position where it sees the insect. Instead, it should aim for a position that is closer and lower!
If all that isn't impressive enough, scientists have recently found out that the archerfish uses even more physics when it hunts!