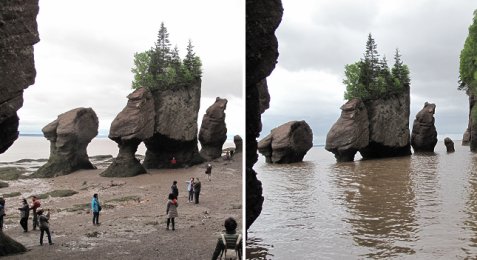 As I mentioned in my previous post, my wife and I are in Canada, seeing some of the sights. Since I had read about them, I wanted to see the tides at the Bay of Fundy, which are the largest in the world. When I mentioned this to one of the organizers of the Canadian convention at which I spoke, she suggested that we go to Hopewell Cape, which has rocks that erosion has carved into some interesting shapes. She said it would be a great way to see the tides, and she was right!
On the left side of the picture above, you see some of those rocks as they appear at low tide. Notice there are several people walking around the rocks. In fact, if you look very closely, you will see a spot of red in front of the biggest rock formation. It has a white blotch above it. That's me in my red jacket and gray hair. On the right, you see the same rock formations at high tide. There's a big difference, isn't there?
The Bay of Fundy experiences the largest difference between high and low tide of any place in the world. On most coastlines, the difference between high and low tide is noticeable, but not dramatic. In the Gulf of Mexico, for example, it is about 0.5 meters. On the coast of Southern Africa, it is about 1.6 meters.1 However, the difference between high tide and low tide in the Bay of Fundy can be more than 15 meters!2 That's why the pictures above are so interesting, at least to nerds like me.
But why does the Bay of Fundy experience such incredible tides? I am glad you asked!