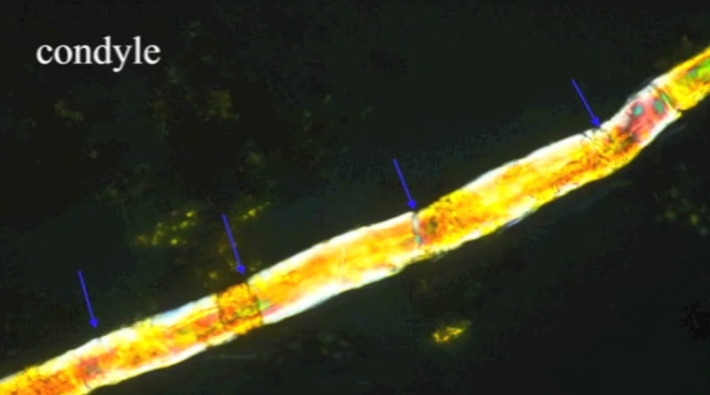 The Dinosaur Soft Tissue Research Institute is producing some incredible results. About two months ago, I discussed a video in which the institute's founder, Mark Armitage, showed some of them. Recently, Armitage posted another video that shows even more results, and once again, they are amazing.
If you don't have time to watch the entire video, let me summarize what I consider to be the two most amazing things shown. In my previous post, I told you that Armitage shows delicate vein valves that he extracted from soft tissue found in a triceratops fossil. It is amazing that he could get them, since they are so delicate that I end up destroying them when I try to get them from a dissection. More importantly, there is no possible way that such a vein valve could be from any source other than the dinosaur, since no organism that could possibly contaminate the fossil produces such structures. Thus, these vein valves are clearly original tissue from the dinosaur itself.
At 2:49 in this video, he shows not only the vein valve, but he shows that the wispy tissue which covers the valve when it is close is still 100% intact! How does he do that? He traps bacteria underneath the closed valve. The tissue is so thin that you can actually see the bacteria swimming around underneath it, trying to get out! The bacteria are obviously the result of contamination, but there is simply no way that the vein valve can be explained that way. So the video shows incredibly delicate dinosaur tissue (so delicate that you can see through it) that is still soft! That's strong evidence that the fossil is not millions of years old!
Continue reading "More Incredible Dinosaur Soft Tissue Results"