About two weeks ago, I spoke at the Greater St.Louis Area Home Educators Expo. It was an excellent convention. One of the sessions I did was entitled "Q & A With Dr. Wile." It was a forum where students and parents could ask me questions about pretty much anything. Well, the convention wanted to make sure they had plenty of questions in case there weren't many from the audience, so they solicited questions on their Facebook page and in one of their popular homeschool co-ops. Since there were plenty of questions from the audience, I didn't get a chance to answer many of the ones that came in before the convention, so I wanted to answer a few of them now. Here they are, in no particular order:
What is your favorite play or part you have done?
My favorite play is The Fantasticks by Harvey Schmidt and Tom Jones. It's a wonderful "boy meets girl" story with a couple of really good twists. It is the world's longest-running musical, with the original production running off-Broadway for a total of 42 years. I have had the honor of playing two parts in the show: El Gallo (the narrator) and Henry (an old actor). El Gallo is also my favorite part.
I am actually currently in rehearsals for another production of The Fantasticks! This time, I play one of the nerdy fathers, which is a perfect fit for me. Here is a picture of me, my (fictional) daughter, the other father, and his (fictional) son at one of the rehearsals. We aren't in costume, but I am wearing the hat I will wear in performances: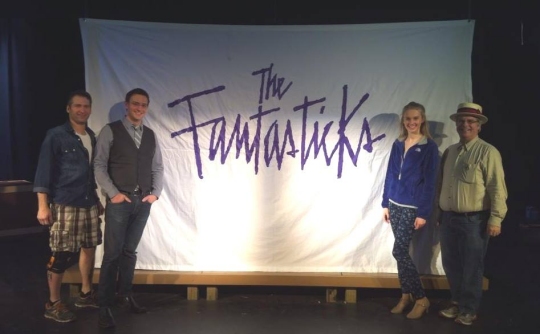 Do you perform Drama in a ministry setting, or just community theater?
I do both. In fact, I have a section here on my blog that contains original scripts I have written for my church's drama ministry.
What is your favorite song to play on piano?
Back when I had time to really play the piano, it was the first movement of Beethoven's "Sonata Pathétique." However, that's beyond my ability at this point in my life. My favorite piece now is an arrangement of "Amazing Grace" by Cindy Berry. It starts off as Edvard Grieg's "Morning Mood," moves into "Amazing Grace," and then moves back into "Morning Mood." It is stunningly beautiful, and I love it because "Amazing Grace" is my favorite hymn. I actually wrote a play about it a few years ago.