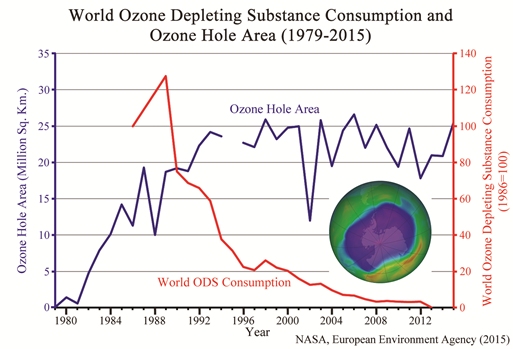 A reader sent me this article and asked for my thoughts on it. It discusses the fact that the ozone "hole" over Antarctica grew 22% from 2014 to 2015. It presents the graph shown above, which demonstrates that despite the fact that the worldwide use of chemicals known to destroy ozone has dropped to nearly zero, the size of the ozone hole has not really decreased. It points out two studies that claim the ozone hole will shrink in size by either 2020 or 2040, and it concludes with this sentence:
But the longer the hole persists, the greater the likelihood that the ozone layer is dominated by natural factors, not human CFC emissions.
So what's the story? By banning the use of CFCs, which we know can destroy ozone in the ozone layer, did we really fix the ozone "hole" problem? Or did we, as this story seems to imply, try to fix something that is probably the result of earth's natural variability?
The first thing you need to know is that the ozone "hole" isn't really a hole. It is a reduction in the amount of ozone that exists within the ozone layer, a portion of earth's atmosphere that is roughly 15-35 kilometers above the surface of the earth. While all portions of the atmosphere have some ozone in them, this portion has the highest levels. Ozone's molecular structure allows it to absorb some of the ultraviolet light that comes from the sun. That's good for us, because ultraviolet light is energetic enough to kill living tissue. You can therefore think of the ozone layer as a "shield" that protects us from most of the sun's ultraviolet light.
The amount of ozone in the ozone layer is measured using Dobson Units (DU). The larger the number of Dobson Units, the more ozone there is in the ozone layer. Globally, the average amount of ozone in the ozone layer is about 300 DU, but in Antarctica, that number fluctuates significantly with the seasons. While there are times the amount of ozone in the ozone layer above Antarctica is 300 DU and higher, there are also times it is significantly lower. The lowest recorded level of ozone in the ozone layer above Antarctica was in September of 1994, when there were only 74 DU of ozone. That reduction of ozone is what scientists refer to as the ozone "hole."